Information Summary
Edit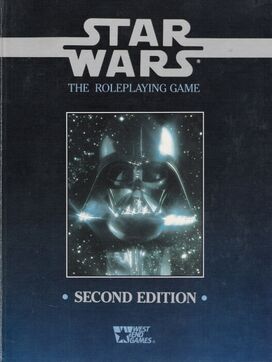 The
rulebook for the second edition of Star Wars; The Roleplaying Game
was written by Bill Smith and published by West End Games in October 1992. It contains rules and guidelines for gamemasters and players as well as the setting, character templates, tips on how to design adventures and a number of adventure hooks.
Star Wars: The Roleplaying Game, Second Edition

Author:

Bill Smith

Editor:

Ed Stark

Illustrator's

John Paul Lona, Allen Nunis and Mike Vilardi

Publisher:

West End Games

Publish Date:

October 1992

Type:

Hardcover

Pages:

176

ISBN:

0874311810
Community content is available under
CC-BY-SA
unless otherwise noted.